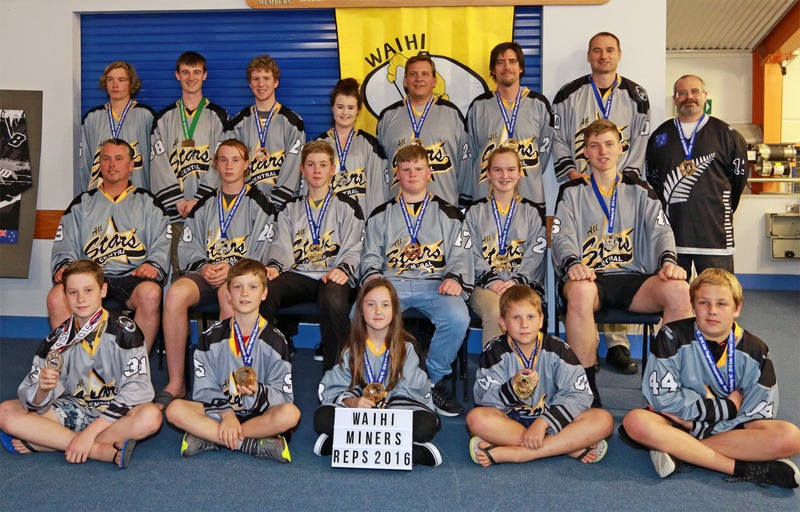 Strong Season For Waihi Inline Hockey
Posted December 12, 2016 Awards & Recognition
From the Hauraki Herald, November 2016 - Jill Cleave
Representatives 2016:
Back row: Bradley Rickard, left, Caleb Ibbotson, Reid Samson, Shania Bate, Luke Burgess, Daryl Shave, Viv Barakat and Leighton Duerre.Middle row: Glenn Williams, left, Joeb Ibbotson, Luke Barakat, Thomas Heays, Jamie Mudford and Nick Barakat.
Front row: Matt Barakat, left, Braydon Burr, Bree Heays, Dylan Lovell and Noah Burgess.
Waihi was well-represented across all grades of the New Zealand Inter Regional Inline Hockey Championships for 2016.
Rachelle Heays said the Miners inline Hockey Club players, playing for Central Region, covered from Under 10 to Open grades.
"We are very proud of our reps who helped their teams bring home several gold medals which was the culmination of a great year of hockey for the club," she said.
Braydon and Dylan Lovell played in the Central U10 team, Matt Barakat and Bree Heays played in the U12 team, Luke Barakat and Noah Burgess played in the U14 team and Jamie Mudford played in the Junior Women side. They all did their part in bringing home gold medals.
Also helping Central to win medals were Joeb Ibbotson, Bradley Rickard and Nick Barakat in the U17 team, Shania Bate in the Senior Women and Veterans Viv Barakat, Daryl Shave, Leighton Duerre, Andy Wilton and Luke Burgess.
The Central U21 team with Nick Barakat, Thomas Heays and Reid Samson, the Senior Men with Caleb Ibbotson and the Masters with Glenn Williams each took home a. bronze medal.
In addition to this Caleb Ibbotson played in goal for the Green Senior Men's Open League team which won the Open League competition. Open League teams were selected from the top men's players from all over New Zealand.
Miners club member Leighton Duerre, went to Italy in June for the FIRS World Cup with New Zealand Veterans team.
Joeb lbbotson, Jamie Mudford, Caleb lbbotson, Viv Barakat, Daryl Shave and Luke Burgess all played in Hawaii at the AAU Inline Hockey Championships during July with Matt Barakat and Noah Burgess going along as well as part of the New Zealand Junior Development side.