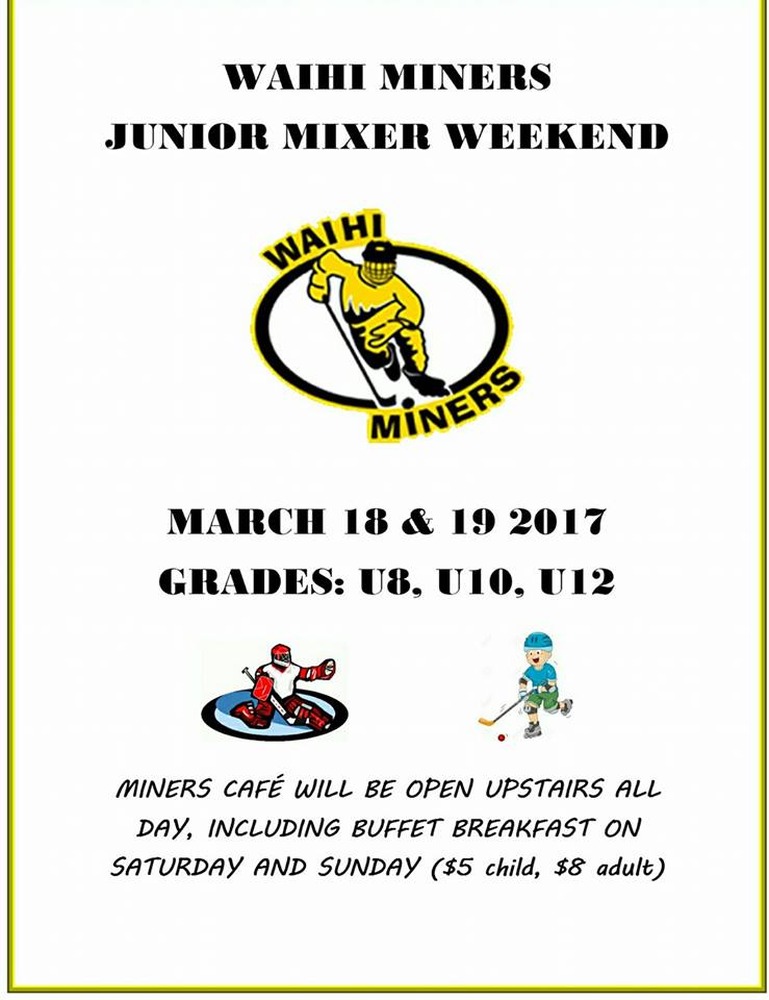 Junior Mixer Weekend 18th -19th March 2017
Posted March 08, 2017 Tournaments
CLUB VOLUNTEERS PLEASE!
The last two years have been huge successes and this one will be too. It's going to be a great weekend with lots of happy hockey families! Your help is very much appreciated.
Setting up: We need volunteers to help set up the rink from 10:30pm on the Friday night. Setting up rink, nets, putting signs up, moving fridges and freezers etc.
Kitchen: Nicola and Tracy have offered to run the kitchen for the weekend . None of you need to volunteer in the kitchen this year but we do require your help in other areas: score bench, cleaning, removing rink side for player entry each game, setting up the rink Friday night 10.30pm (netball is using the centre until then) and tidying up the Events Centre on Sunday.
Baking: Would each family please supply some home baking – cakes, biscuits, muffins, loaves, scones, fudge etc. This can be brought into the Events Centre on Saturday or Sunday mornings.
Donation of Foods: Please see below for the team food donations needed. Tinned/jars/cereal food can be left at training at the rink the week prior to the Mixer Weekend (there will be a box inside the skate room). The refrigerated items and baking can be brought to the Events Centre upstairs kitchen between 8pm and 9pm on Friday 17th March OR to the rink on Saturday morning by 8.00am please. This is a fundraiser for our club and the more food that is donated the more profit we will make.
Score Bench: We need volunteers for the score bench; scoring and timekeeping. You do not need to have experience. Rachelle can pair you up with someone more experienced. The more volunteers we have the more smoothly it will run and the more fun we will have. It's a lot of fun and there's heaps of support. Also these are not league games so although they will definitely be competitive it's not the end of world if we make an error. Good games to learn on.