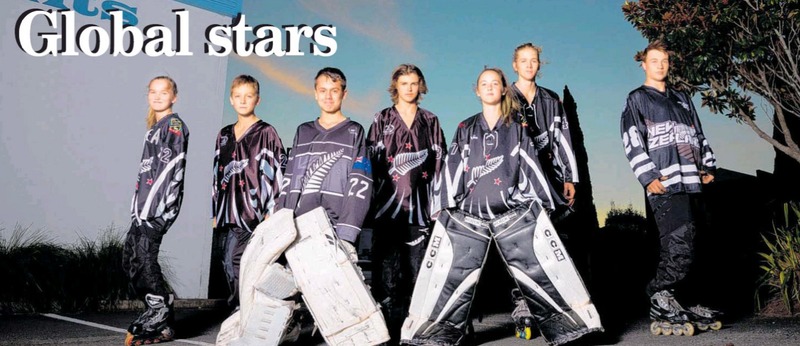 Global Stars - Waihi Leader 2 May 2019
Posted July 06, 2019 Awards & Recognition Tournaments
From: Waihi Leader, 2 May 2019
A total of seven players from one Waihi club will represent New Zealand in international hockey competitions this year.
The junior hockey players from Waihi Miners Inline Hockey club will be competing at the AAU Inline Hockey Junior Olympics 2019 in Hawaii and Inline Hockey World Championship (part of World Roller Games) in Barcelona in June and July.
The players at the AAU Inline Hockey Junior Olympics are Braydon Burr, Zac Williams (under 12) and Honza Andrews and Bree Heays (under 14).
Jamie Mudford, Luke Barakat and Joeb Ibbotson will compete at the Inline Hockey World Championship in Spain.
The players were selected for these events from Kiwi trials late last year and early 2019. They have attended training camps in New Plymouth, Hamilton and Wellington to prepare.
Club treasurer Jana Andrews says the club is special in that it is always well represented at major overseas hockey events.
"The Waihi club has had many successful players over the years who competed at a high level nationally and internationally. Some of the players are going for the first time, others are seasoned New Zealand representatives."
The players have a big local fundraising push towards their trip as they must raise at least $4500 each. Fundraising events have included garage sales and selling produce in markets.
Group fundraising events have included public skating, holiday skating and zorb soccer sessions.
The club's rink is at the Waihi Events Centre on Haszard St.
There are public skate nights on Saturday nights throughout the school term.